The purpose of egg freezing is to give the woman an opportunity to preserve or extend her fertility.
Procedure for Egg Freezing
One treatment cycle for freezing eggs takes almost two weeks to complete. During the treatment, hormone injections are taken on daily basis that allow multiple eggs in the ovaries to mature. Ultrasound scanning will be performed once or twice during the treatment period to follow the growth of the egg follicles. The eggs are retrieved vaginally using an ultrasound guide and is completed in around 10-15 minutes.

Number of eggs recommended to freeze
Not every egg that is frozen will have quality enough to get fertilized in the future, meaning that not all eggs will go on to become a baby. During an egg collection procedure, some of the eggs retrieved are not good enough for freezing or are unable to survive the freezing (cryopreservation) process. To have a reasonable chance of a pregnancy in the future, a woman usually is recommended to freeze at least 20 eggs. For a younger woman, this may be possible to obtain within one treatment cycle. Other woman may need two or three treatment cycles to reach that number. Information and recommendation concerning this will be given after the basal investigation has been performed.

Future IVF treatment
The eggs can be stored frozen until the woman wishes to use them. Fertilization of frozen eggs follows the same routine as IVF.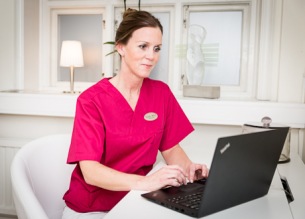 Welcome to contact us!
+46 (0)18-12 80 17
+46 (0)76-184 85 85
GynHälsan Fertility Clinic
Kålsängsgränd 10 d, 3rd floor
SE-753 19 Uppsala
Sweden
+46 (0)18-12 80 17 or +46 (0)76-184 85 85

The clinic is centrally located near Uppsala's Central Station