When should an investigation start?
An investigation is recommended when you have tried to conceive for one year without success. If a woman is older than 35 years an investigation might be started earlier. An investigation should also start earlier if any known cause of infertility exists, such as an absent or irregular menstrual cycle, endometriosis or gynaecological malformation. Known male factors can also be a reason to start earlier.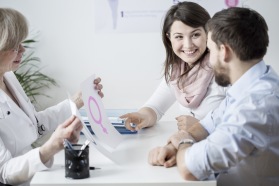 An investigation can be carried out in its entirety at our clinic, or at another gynaecologist's if preferred. If the investigation is performed at another clinic, information about the results should be transferred to us in order to finalize the recommendations and treatment plan. We have short waiting times and an investigation and the following treatment plan can be complete within a couple of weeks .
GynHälsan Fertility Clinic
Kålsängsgränd 10 d, 3rd floor
SE-753 19 Uppsala
Sweden
+46 (0)18-12 80 17

The clinic is centrally located near Uppsala's Central Station