When should an investigation start?
An investigation is recommended after a pregnancy hasn't been achieved after one year of attempts. If a woman is older than 35 years an investigation can be starter earlier. An investigation should also commence earlier than a year of actively trying to become pregnant if any cause already exist, such as absent or irregular flow, endometriosis or deformation. Known male factors can also cause investigation to start after less than a year.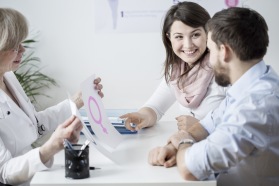 An examination can be done in its entirety at our clinic, or at another gynecologist if desired. We have short waiting times and an examination can be completely done withing a couple of weeks time. Treatment can begin shortly thereafter. An infertility examination is done withing the framework of publicly funded care with regulare patient fees, exemption cards apply.
If you have any questions you are welcome to contact us!
+46 (0)18-12 80 17
+46 (0)76-184 85 85