GynHälsan Fertility Clinic and Minerva Fertility are operated within a business-group structure where experience of working, developing and giving high-quality health-care has been foremost for a long time. A high-quality management system has been developed with a clear structure where all available quality-assurance recommendations are followed according to a recognised standard (ISO 9001:2015). Environmental work is also prioritised, with a focus on sustainable development, and the clinic works in this area according to another recognised standard (ISO 14001:2015).

Our work is certified according to ISO 9001:2015 and ISO 14001:2015, and the certification, as well as our environmental policy is available to download below.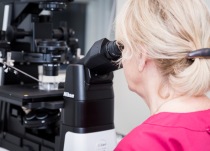 We are members of the employers' organization Vårdföretagarna.
GynHälsan Fertility Clinic
Kålsängsgränd 10 d, 3rd floor
SE-753 19 Uppsala
Sweden
+46 (0)18-12 80 17

The clinic is centrally located near Uppsala's Central Station